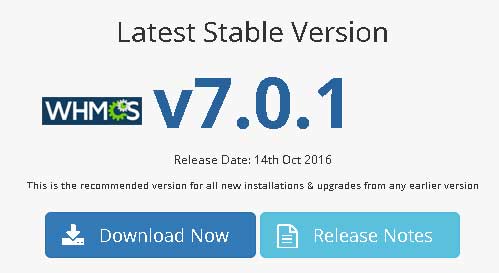 New PHP Version Requirements
WHMCS 7.0 requires PHP 5.6 or later. If you are running any versions earlier than PHP 5.6, you must upgrade PHP before attempting to upgrade to WHMCS 7.0. WHMCS 7.0 also requires ionCube Loader v5.0.21 or later.
Version 7.0.0 System Requirements: WHMCS v7 minimum system requirements are PHP 5.6 and stable IonCube Loader 5.0.21 or later. WHMCS v7 also supports PHP 7 – in order to ensure complete compatibility, please install the latest Ioncube loader 6.0.2 or later.
---
Before Upgrading Backup your data-base and zip pubic_html
Discovered upgrading to ver 7.0 needs attention before installing.
You must have root server ability to update ion-cube from 4.x to 5.x or above.
Also you will need to update your data-base permissions where installer can write temporary tables.
Normally I keep global permissions off.
What will happen if you attempt a manual update or automated update without proper permissions and upgrade fails.
Your data-base will become corrupted and you will need to restore from backup.
Just rename corrupted data-base name. Create a new one and import your data back in.
Then you will be back to installation page where you can try again.
Blank page is normally a failure with your ion-cube encoder.
If you have no root access to your server and ion-cube or php is an older version than what is required.
Your only option is to restore home directory. i.e. pubic_html.zip you created before extracting 7.x files…
---
I am impressed with version 7… Functions quite well…
Personally perform all work manually and don't use my whmcs connect to whm.
I am a small private hosting company for the elite who desire dedicated services where a hand is always on the wheel and eyes on the road of progress.