Ben Benson Computer Engineer – Pioneer of Tandy Computer
One of the original programmers of the Tandy computer and founder of small web hosting business in the late 80's United States World Wide Web (USWW)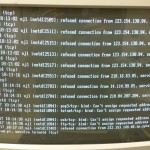 Ben developed sites like usashopper.com mallcity.org and W8.net cyberlinkexchange.com…
These early legacy shopping carts and search engines were hand written scripts.
Sadly server was attacked by hackers and taken down in September 2015…
---
1989 while looking for a reliable web hosting company to host "The Anna Maria Network" I found Mr. Benson online…
No matter what I needed to accomplish, he always came up with a great solution and his knowledge of Unix was incredible!
Personally met Ben in the early 90's…
His God given talent was superior to anyone I have known on the web.
Ben was big on security and never wanted anyone to know his true identity. For the most part he was a recluse and lived in the back woods of Wren's, GA
No where on the web will you find a picture of Ben!
He was so tight on security, when Anna Maria Net Inc was incorporated in 2001 he decline to give out his social security for shares in the company.
Ben wanted no digital trace of his identity and always used an alias name.
After working outdoors on a hot summer day Thursday, July 23, 2015 Ben went down to rest on his couch and never woke up. He was 62…
"Mr. Bruce Ervin Benson, 62, of Wrens entered into rest on Thursday, July 23, 2015, at his residence." Taylor Funeral Home
No one like Bruce Benson. He was a great engineer, programmer, network administrator, trainer and friend. He will be missed… ___ Dave Billings author
---