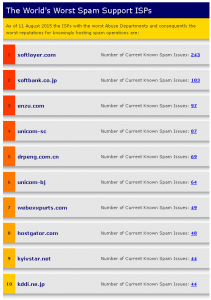 Spamhaus is doing an outstanding job keeping your inbox free of spam.
Service providers need to step up to the plate and enforce strict spam policy.
Majority of service providers will host anyone with a credit card. We do not!
---
Our No Solicitation & Hosting Policy:
Mailing Lists, Incoming & Outgoing Forbidden
Buying SEO Services i.e. buying links and incoming traffic is Forbidden. Only natural traffic is allowed.
Loose Scripts, Unsecured & Outdated Software is Forbidden. Hosted sites must be maintained.
Hope to see more crack downs on loose providers. IBM / Softlayer on the naughty list is sad.
Just goes to show you cheap hosting does not work. Without staff to keep a close eye on servers and clients you're done.