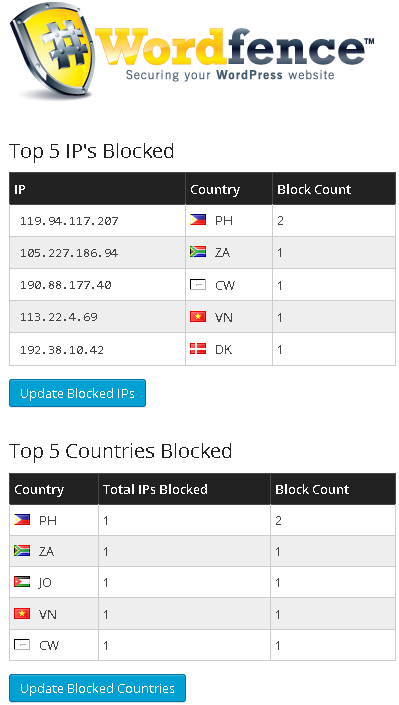 WordPress Vulnerability
Hack Bots are constantly hitting files for an open door into your data-base!
Outdated WP core files, themes and plugins is an open door for exploitation.
Improper weak file permissions set by default makes it easy to read config files. wp-config.php
Global read/write permissions must be set properly. Majority of data-base sites are hijacked…
---
76.191.74.9 – – [15/Jul/2015:08:02:13 -0400] "POST /wp-login.php HTTP/1.0" 403 3381 "-" "-"
76.191.74.9 – – [15/Jul/2015:08:02:14 -0400] "POST /wp-login.php HTTP/1.0" 403 3381 "-" "-"
76.191.74.9 – – [15/Jul/2015:08:02:15 -0400] "POST /wp-login.php HTTP/1.0" 403 3381 "-" "-"
76.191.74.9 – – [15/Jul/2015:08:02:26 -0400] "POST /wp-login.php HTTP/1.0" 403 3381 "-" "-"
76.191.74.9 – – [15/Jul/2015:08:02:31 -0400] "POST /wp-login.php HTTP/1.0" 403 3381 "-" "-"
76.191.74.9 – – [15/Jul/2015:08:02:32 -0400] "POST /wp-login.php HTTP/1.0" 403 3381 "-" "-"
76.191.74.9 – – [15/Jul/2015:08:02:36 -0400] "POST /wp-login.php HTTP/1.0" 403 3381 "-" "-"
76.191.74.9 – – [15/Jul/2015:08:02:41 -0400] "POST /wp-login.php HTTP/1.0" 403 3381 "-" "-"
76.191.74.9 – – [15/Jul/2015:08:03:02 -0400] "POST /wp-login.php HTTP/1.0" 403 3381 "-" "-"
76.191.74.9 – – [15/Jul/2015:08:03:08 -0400] "POST /wp-login.php HTTP/1.0" 403 3381 "-" "-"
---
Your best defense is WP-Security and Word-Fence
Wp security will help hide information from attackers.
Wp security is a big help instructing how to set permissions on files and databases.
Word fence blocks invalid login attempts on your WordPress dashboard.
Word fence has Malware and Virus protection. Definitions are kept current and subscription is affordable.
Check Your Log Files
Discover the same IP address listed multiple times withing a few minutes apart you are under a robot attack!
It's time to lock the doors.
Step 1. Clean off all threats before login to your web server.
Test device all devices connecting to your server first. More Info
Step 2. Change server passwords. cPanel whm plesk panel
Change your data-base passwords and look for the obvious in file manger.
Step 3. Update WordPress, plugins and Themes.
Make sure you save customization if your not using a child theme before updating.
Step 4.> Install & Configure Security Plugins.
Highly Recommend "Disabling Comments" with WordPress Plugin Disable Comments
Install WP Security Plugin and run Wp Settings first. Check all boxes. Last two live monitoring optional.
Wp Info set file and database permissions. Install Word Fence Plugin. Subscribe scan and fix…
---