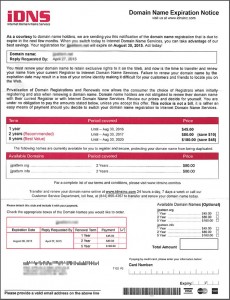 Fake Domain Renewals From iDNS
Domain Name Expiration Notices from Air America WHMCS / Enom do NOT come in the mail… Anytime you get these notices it's best to destroy them.
---
These notices are solicitations to switch domain registration providers that look like renewal notices.
Old news for most web savvy site owners. However many have been taken to the cleaners and the notices keep going out.
Normal cost for a dot com domain renewal is $10 – $20 a year or $8 – $10 bulk wholesale.
Our Enom rate is only $15 per year… Customers never have to worry about loosing domain names!