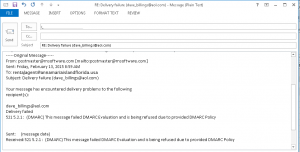 Vacation Booking Software Nightmare
Online booking software sending BCC (blind copy) from 3rd party domain email address fails policy as forged due originating domain sender email address mismatch and/or reverse look-up failure.


RNS Vacation Rental Software & VRBO Homeaway.com
Two of the largest vacation rental software companies widely used to deliver rental leads maybe adversely affected by DMARC policy.
Email notification sent to agency from software providers domain works good. However conformation email to the customer crossing domains is where the problem starts.
Agent puts in his or her email address in booking program as the sender and email is delivered from booking software company domain. Once sent to AOL recipient or service providers using strict DMARC policy set to reject 3rd party sender mail is returned.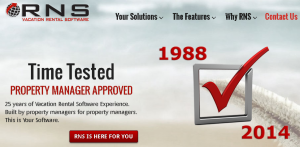 RNS Software released a PDF to all agencies using their software to add SPF string allowing relay to pass through July 8, 2014.
Example string: v=spf1 include:mail1.rnsoftware.net ~all with instructions to test at MX Tool Box. This SPF string says it's allowed to send email from 3rd party domain rnsoftware.net… In most normal cases this works provided originating ESP (Email Service Provider) has server properly configured with client domain SPF enabled.
Failed Email Verifications & Outages
Valentines day is peak start of vacation season. Majority of snowbirds and spring breakers booking online and headed South to beat the cold. Mass traffic to online booking sites and agents scrambling to meet the demand.
Thursday, Feb 12th VRBO was down. It's not clear if this was a denial of service attack or data-center failure. See Outage Report
New policy enforced by America Online and other service providers, in "good faith" to put a stop to phishing scams, forged fraud email and spoofing has added insult to injury for ESP's and vacationers worldwide.
Best advise to consumers is contact your agent after making a reservation.
Then you will be sure your vacation will be a pleasant experience.