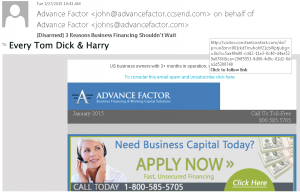 How Did I Get On This List? Someone sold you out…
OK, All I have to do is click the unsubscribe link? NOT You just verified your email address is good… Constant Contact, AWebber and iContact are legitimate email marketing companies. However this is the junk they are sending these days.

Most of the spam is overseas but a good chuck is illegal spam from USA
Service Providers it's best to block all the junk unless your customers want to receive it on an individual basis.
Hope businesses will get wise to this and stop hiring marketing companies to blast ads and spam mail.
No one wants this nor do they have time to unsubscribe and delete all the junk.